Careers
As a Griffin Residential employee, you will have opportunities to develop new skills in a fast paced environment and apply innovative solutions to complex challenges. We take great pride in the number of dedicated and highly motivated employees that have advanced their careers within our company.

Griffin Residential is constantly seeking experienced professionals who share our philosophy and fit well within our corporate culture. If you are a seasoned professional with a legacy of your own or an eager newcomer ready to make your mark in the housing industry, we invite you to submit your resume for career opportunities with Griffin Residential.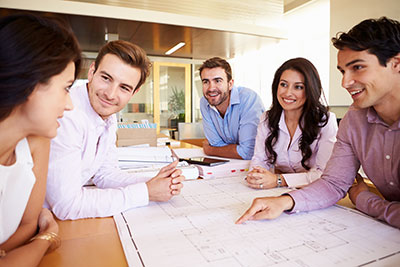 Our People Philosophy
Griffin Residential continues to grow and succeed largely because of the hard work and dedication of our employees. Their commitment to us, their "above and beyond" work ethic, and their desire for knowledge are all driving factors that are critical to our success. By promoting their professional growth and development, our employees have been able to set their own path for success.
We strive to create a positive work environment that both employer and employees can benefit from. With our long family history, we understand the importance of family and home. We recognize the challenges often associated with prioritizing work and personal life, and continue to find ways to encourage our employees to have a good balance.
Summary of Benefits
The following is a summary of all our current company provided benefits available to full time employees.
Medical, Dental and Vision Care
Flexible Spending Account (FSA)
Basic Life Insurance
Long Term Disability Insurance
401K
Vacation Time
Sick Time
Paid Holidays
Bereavement Leave
FMLA
Employee Assistance Program (EAP)
Employee Referral Program
Discount Programs
Career Opportunity Contact
If you are interested in a career opportunity at Griffin Residential, please email us your resume and the position you are applying for at careers@griffin-residential.com
Griffin Residential is an Equal Opportunity employer.